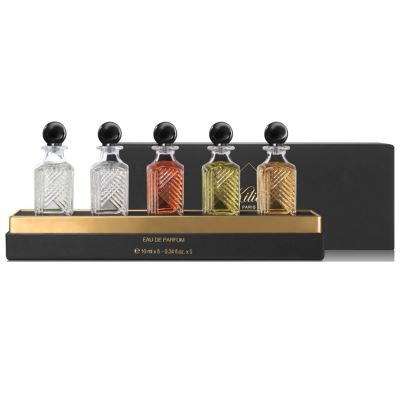 Le immagini inserite sono a scopo illustrativo e potrebbero non rispecchiare l'effettivo aspetto del prodotto.
BY KILIAN
Holiday Miniature Set 5 x 10 ml
COD: 03160 N479

BY KILIAN Holiday Miniature Set 5 x 10 ml
Quest'anno, KILIAN PARIS presenta un nuovo set natalizio. Holiday Miniature Set è un regalo di grande effetto, con cinque caraffe in miniatura riempite ciascuna con 10 ml di un profumo KILIAN, ideale per esplorare la famiglia olfattiva dei The Liquors.
Il kit contiene:
Angels' Share, l'angelica fusione di olio di cognac e miscela assoluta di quercia, essenza di cannella e assoluta di fava tonka.
Roses on Ice, una sensazione gelida di bacche di ginepro esaltata dalla freschezza del cetriolo e dei petali di rosa.
L'Heure Verte, un'unica fragranza legnosa fatta con assenzio, foglia di violetta e patchouli.
Apple Brandy, una miscela fruttata croccante armonizzata con il brandy ricreato con note di rum, muschio e vaniglia.
Vodka on the Rocks, un brivido ghiacciato di aldeidi, caramello e muschio di quercia.
Gift Set 5 x 10 ml
EAN 3700550227298
GUARDA ANCHE