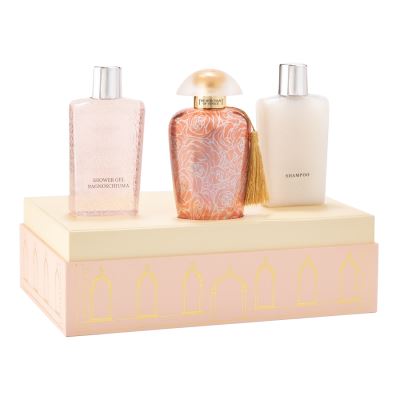 Le immagini inserite sono a scopo illustrativo e potrebbero non rispecchiare l'effettivo aspetto del prodotto.
THE MERCHANT OF VENICE
Rosa Moceniga Coffret
COD: 29470489413

THE MERCHANT OF VENICE Rosa Moceniga Coffret
Note di Testa: Essenza di Rosa Moceniga, Limone di Sicilia, Foglie di Ribes Nero
Note di Cuore: Magnolia, Fiore di Loto, Assoluta di Rosa
Note di Fondo: Assoluta di Vaniglia, Muschio, Cristalli d'Ambra, Legno di Cedro bianco
Si compone dell'omonimo Eau De Parfum (100 ml), Shower Gel (80ml) e Shampoo (80ml).
Un'idea regalo femminile ed elegante per la donna che ama prendersi cura di sé senza mai rinunciare ad una scia profumata delicata e raffinata.
Questa raffinata fragranza femminile rivela la rosa nella sua più affascinante espressione. Le note di testa incantano con il fresco limone Siciliano e la soave essenza di Rosa Moceniga, delicatamente illuminate da foglie di ribes nero. Il lussureggiante bouquet fiorito presente nel cuore di questa raffinata fragranza è raccontato dall'assoluta di rosa, esaltato dalla fresca magnolia primaverile e dai delicati tocchi trasparenti dei fiori di loto. Armoniosamente inserito nelle soffici e sensuali note di fondo, questo sofisticato fiore è il protagonista indiscusso della fragranza: il confortevole muschio, il bianco legno di cedro e l'assoluta di vaniglia, spolverati da preziosi tocchi di cristalli d'ambra, assicurano una base preziosa alla maestosità di questa rosa.
Gift Set 3 Prodotti
EAN 679602489430