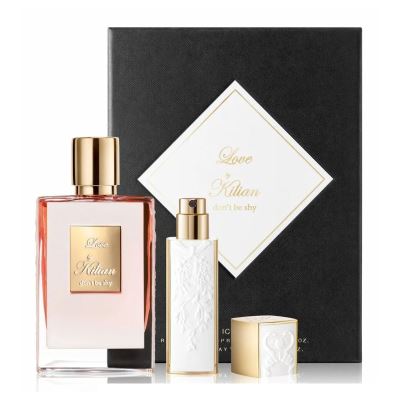 Le immagini inserite sono a scopo illustrativo e potrebbero non rispecchiare l'effettivo aspetto del prodotto.
Novità
BY KILIAN
Love, Don't Be Shy Holiday Set
COD: 03160 N42K
BY KILIAN Love, Don't Be Shy Holiday Set
Love, Don't Be Shy Holiday EDP 50 ml + Travel Pieno EDP 15 ml
Naso: Calice Becker
Love – don't Be Shy è una vera e propria squisitezza sensuale: prima dolce e tenero, poi intenso come la seduttrice più esperta.
Inizia con un primo bacio, timido e riservato, dato da labbra fresche impregnate di Neroli, continua con la carezza del Gelsomino Sambac, che sfiora sensualmente la pelle già impregnata di Rosa e Iris per finire poi con l'estasi di un abbraccio vanigliato e muschiato.

Famiglia olfattiva: Gourmand Floreale

Note olfattive: Assoluta Fiore d'arancio, Caprifoglio, Rosa, Marshmallow, Accordo di zucchero, Ambra.
EDP 50 ml + Travel Pieno EDP 15 ml
EAN 3700550224952
GUARDA ANCHE